It was March 14, 2012 when the WooFDriver took the WooFPAK on a Mushing Tour on the C&O Canal Towpath through the Paw Paw Tunnel at milepost 156.1. The town of Paw Paw, West Virginia is just across the river at this point of the Towpath. The town, bends and tunnel get their names from the pawpaw trees that grow throughout this area.
The town of Paw Paw was incorporated on April 8, 1891 and is the westernmost incorporated community in the Hagerstown-Martinsburg Metropolitan Area. The Paw Paw Tunnel is a 3,118 foot long canal tunnel built to bypass the Paw Paw Bends of the Potomac River and opened for traffic in 1850. The tunnel nearly bankrupted the Chesapeake and Ohio Canal Company forcing the end of the canal construction at Cumberland, Maryland instead of Pittsburgh, Pennsylvania as planned.
Wikipedia's Webpage to learn more about Paw Paw, West Virginia
Wikipedia's Webpage to learn more about the Paw Paw Tunnel
In this photo album from March 14, 2012 we are mushing through the tunnel!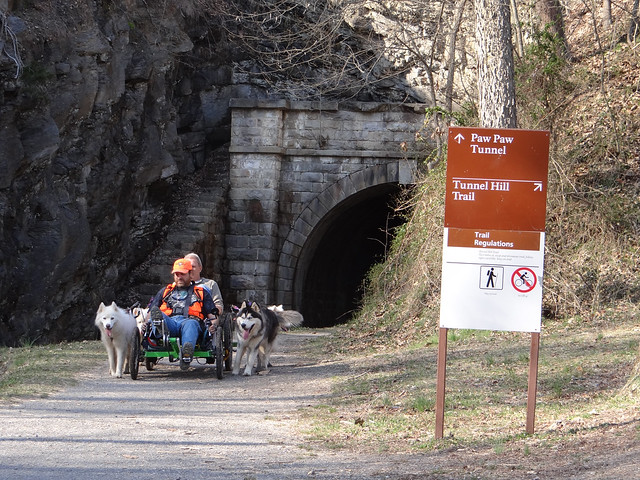 Please enjoy the photo album from this exciting Mushing Tour on October 17, 2012!
Enjoy video footage of the C&O Canal in this area!

Comments